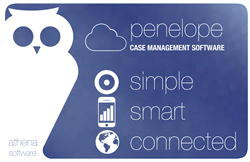 Waterloo, ON (PRWEB) June 30, 2014
Athena Software (http://athenasoftware.net) is happy to announce another worthy recipient of its Bernard Porlier Social Work Scholarship, an award given to students each year in the Master of Social Work (MSW) program at Wilfrid Laurier University (WLU).
This year, the scholarship was awarded to Margaret Ngaling, a student whose academic success made her an ideal candidate for the $ 2,000 award, said Dr. Nick Coady, Dean of the Faculty of Social Work at WLU.
"The Bernard Porlier Social Work Scholarship was established by Athena Software in 2008 to honour the contributions to the well-being of families by Bernard Porlier, the former longstanding executive director of K-W Counselling Services," he said.
"This is one of the major awards available to our MSW students annually and it is extremely important as a much-needed source of financial support for our students. This years recipient, Margaret Ngaling, embodies very well the type of student for whom this award was intended. Margaret had very strong academic achievement in the MSW program and in her field placements, one of which was at K-W Counselling Services, where she worked tirelessly and effectively to provide support to families experiencing a wide range of social problems.
"The Faculty of Social Work thanks Athena Software for their ongoing, generous support of this important award and congratulates Margaret Ngaling as a very deserving recipient of this years award."
Margaret immigrated to Canada from Cameroon in 2010 with a master's degree in Women and Gender Studies, and was soon drawn toward the social work field.
"When I arrived in Canada, as a new immigrant, my experiences and credentials were not recognized in the Canadian job market. As a result, my prior experiences and strong passion for working with the underprivileged and vulnerable population drew me to social work," she said.
The chance to gain experience in the field as part of her studies at WLU was important, Margaret said.
"My experience in the social work program was great. I had the opportunity to do some intensive course work, which was complemented by two field placements. My field placements at K-W Counselling Services and the Specialized Mental Health Unit of the Grand River Hospital, gave me the chance to practise what I had studied in class. There were other tremendous learning opportunities like the organization of seminars and workshops at the Faculty of Social Work, which greatly expanded students knowledgebase," she said.
Margaret said being named this year's recipient of the Bernard Porlier Social Work Scholarship is, in part, a validation of her career choice and her commitment to the community.
"Receiving the Bernard Porlier award is indicative of the fact that my decision to study social work was the right one. It has also reinforced my responsibility to give my best to the community," she said.
"I have a strong passion for working with the underprivileged and vulnerable populations. As a result, the social program has honed my skills and greatly equipped me with the necessary tools to work with this population in different dimensions."
The Bernard Porlier Social Work Scholarship is eligible to students in the two-year full-time or four-year part-time MSW program at WLU, and was established by Athena Software in 2008.
"We are delighted and honoured to be able to reward the great work of students like Margaret in the MSW program at Laurier each year," said Diane Stanley-Horn, partner at Athena Software. "It is a real pleasure for us to contribute to a student's education while also celebrating their academic achievement."

2010 End of Year Message from the CEO and Founder of PCDI-Cameroon
Dear People of Goodwill,
Thanks for all your effort to keep the spirit of community development alive. There is nothing more important to humanity other than saving lives. Your continuous support is deeply appreciated.
As you might have noticed, PCDI has suffered a series of crisis in the past year. These crises range from poor management to staff malpractices. We have had difficult times with the Staff, BOD, Volunteers and projects implementations. However, PCDI was founded with the community in mind and shall continue to work for the empowerment of communities.
My deep thanks go to those who stood by us during our crisis. Our approach to management might have not been the best, but we thank you for your corrective action.
PCDI is willing to welcome any suggestions that will improve our operational standards.
We are proud to inform the international community that our mentor and volunteer Ms. Tamara
Palamakumbura
greatly motivated who we are today. Our international connections and overall success is thanks to Ms. Tamara. PCDI is your baby and we wish to continue working with you.
To all partner organizations, especially the AIA Club of the American University in Dubai, we say thank you for spreading the spirit of community development. You determination and involvement in the fight to alleviate poverty in Cameroon is highly lauded. Thank you for the school construction in Bambalang-Ndop.
For 2011, PCDI intends to carry out a series of project in partnership with other organizations. We are happy to announce our new partnership with the community oriented NGO (CIG) the Kencholia International Foundation (
http://www.kencholiafoundation.com/
). United we stand for greater achievement.
Finally, with effect from January 1
st
, 2011, PCDI's head office shall be moved to the United States of America. PCDI International, a 501c registered organization, will take over PCDI-Cameroon. The Cameroon office shall henceforth be an execution office for all PCDI-International projects in Cameroon. This strategy is aimed at standardizing operations and monitoring. Contact our website
http://www.pcdi-cameroon.org/p/contact.html
for office location.
Accept seasonal greetings from the Staff and Management of PCDI.
Francis K. Chenyi
Founder and CEO PCDI-Cameroon